NASTY HIGH MINT SALT LINE 30ML
Rs.1,800.00
Brand: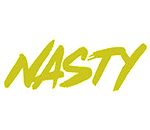 Nasty
... people are viewing this right now
---
Nasty High Mint Salt Line is packaged in sleekly designed 30ml bottles, available in nine excitingflavors Slow Blow, Cushman, Asap Grape, Bad Blood, Cushman Banana, Cushman Strawberry, Cushman Grape, Trap Queen, and Passion Killa.
Nasty High Mint Salt Line is uniquely formulated to deliver a smooth throat hit while offering 35mg and 50mg nicotine strength levels. Vapers looking for premium salt nic find Nasty High Mint Salt Line immensely satisfying in curbing their cravings. So don't look around when you've already found the one!
Flavor: Slow Blow, Cushman, Asap Grape, Bad Blood, Cushman Banana, Cushman Strawberry, Cushman Grape, Trap Queen, Passion Killa
NIC: 35mg.50mg
| | |
| --- | --- |
| Flavor | Asap Grape, Bad Blood, Cushman, Cushman Banana, Cushman Grape, Cushman Strawberry, Passion Killa, Slow Blow, Trap Queen |
| NIC Strengths | 35 MG, 50 MG |
| VG-PG | 50-50 |
| Bottle Size | 30 ML |