CLOCC Coils by Kanger
Rs.400.00 – Rs.2,000.00
Brand: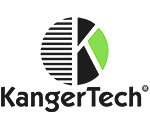 Kangertech
Kanger CLOCC are sub ohm organic Cotton coils from the Kangertech. The resistance is 0.5ohm for SS 316L and 0.15ohm for ni200 and are used with Kanger CL tanks only. These replacement coils deliver pure taste and are durable.
... people are viewing this right now
---
The CLOCC sub ohm organic coils from the kangertech are suitable for the Knager CL Tanks both 2.0mL and 4.0mL. These replacement coils carry two resistance options i.e. 0.5ohm SS 316L and 0.15ohm ni200. These coils are constructed from stainless steel. The CLOCC coils are reliable, durable and produce a pure taste, and are available with Longhorn Vapors.
Product Features and Specifications:
Material: Stainless Steel
Resistance: 0.5ohm, 0.15ohm ni200
Color: silver
Size: 20mm x 8mm
Weight: 8g
Items list: