Freemax GX Mesh Coil
Rs.750.00 – Rs.3,750.00
Brand: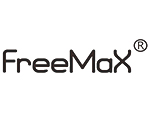 Freemax
... people are viewing this right now
---
The Freemax GX Mesh Coil Series delivers delicious vapor from your favorite e-liquid and is compatible with the Freemax Galex Kit, Freemax Galex Nano Kit, and Freemax Galex Empty Replacement Pods.
Freemax GX Mesh Coils is available in two coil resistances: 0.8 Ohm and 1.0 Ohm. Freemax's FM SaltCoilTech 4.0 improves vapor production and flavor no matter what e-liquid type you use with either coil. Vaping with the Freemax GX Mesh Coil 1.0 ohm offers a tighter airflow, subtle vapor, and intense flavor.
| | |
| --- | --- |
| Brand | Freemax |
| Pack | 5-Pack, Single |
| Ohms | 0.8 ohm, 1.0 ohm |