Beyond Iced 30ml
Brand: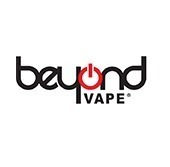 Beyond
... people are viewing this right now
---
Beyond Iced is the icy menthol line by the popular brand that has vape enthusiasts going crazy. These salt nic liquids pack a punch of nicotine to satisfy your cravings and deliver refreshing flavor laced with icy cool notes. The vape juice is manufactured with the highest quality ingredients, which is prominent in each drag you take!
Beyond Iced Salt liquids have the perfect consistency for dense clouds and it heats up evenly to deliver an overall smooth and delectable flavor. It can be enjoyed in various different flavors such as Iced Kiwi Passion Kick, Iced Berry Melonade Blitz, Iced Dragon Berry Blend, Iced Cherry Apple Crush, Iced Mango Berry Magic, and Iced Sour Melon Surge. Each one of these blends is bursting with fruity and icy flavors that vapors around the globe thoroughly enjoy!
| | |
| --- | --- |
| Brands | |
| Flavors | Iced Berry Melonade Blitz, Iced Cherry Apple Crush, Iced Dragon Berry Blend, Iced Kiwi Passion Kick, Iced Mango Berry Magic, Iced Sour Melon Surge |
| VG-PG | 70/30 |
| Nicotine | 20mg, 30mg, 50mg |