Freemax Twister Replacement X3 Mesh Coils 0.15 ohm
Rs.700.00 – Rs.3,500.00
Brand: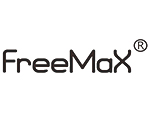 Freemax
... people are viewing this right now
---
Artisan Vapor Company is proud to offer a affordable replacement coil specially designed for Freemax Twister 80W Starter Kit. Freemax Twister X3 Mesh Coil features 0.15ohm resistance, rated at 50-90W, which can deliver massive clouds and amazing flavor.
The updated coils incorporate a wood pulp formula (90% flax cotton, 10% cotton), which is known to help with flavor and coil longevity. The coils are very flavorful indeed.
Specifications of Freemax Twister Replacement Mesh Coil:
Brand: Freemax
Resistance: 0.15ohm
Wattage Range: 50-90W
Fit for Freemax Twister Kit