Puff Bar Disposable Kit
Brand: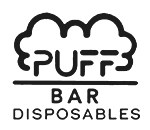 Puff Bar
... people are viewing this right now
---
Artisan Vapor Company is the leading provider of vape e-cigarette kits in the PAKISTAN. Puff Bar Disposable Kit is one of the best selling e-cigarette kits available in the market. It is available all across the PAKISTAN at an affordable price.
Puff Bar raises its own bar with its Popular disposable device to Puff away that is compact, light, and portable. It is currently one of the hottest items out in the vape market today! All Puff Bar disposable vape require no maintenance, charging, or refilling. After your PUFF BAR runs out of juice and/or battery, simply buy a replacement. Puff Bar comes in two different nicotine strengths, one being 2%(20MG) and the other 5% (50MG).
Choose from a wide variety of delicious e-juice flavors that include favorites for many; such as Banana ICE, Pineapple Lemonade, Strawberry, Lush ICE, Cafe Latte, Watermelon, O.M.G (Orange, Mango, Guava), Blueberry ICE, etc. Each PUFF Portable Device comes with a pre-filled 1.3mL E-juice that is enough to stay satisfied for the whole day. Once you take a Puff today, it will leave you wanting to Puff for more.
PUFF Bar Disposable Device Specifications and Features:
Disposable Device requires No Maintenance, Charging or Refilling
Pre-Filled: 1.3mL Salt Nic E-liquid per disposable
Internal Battery: 280mAh
Pre-charged, Simply puff on the device to activate
Pre-filled, No need for messy refills
Salt Nicotine: 2%(20MG) and 5%, (50MG) Salt Nic inside for an accurate cigarette-style throat hit
Up to 300+ Puffs per disposable, approximately equivalent to 1 pack of cigarettes (20 cigarettes)
Compact, Light, and Portable
Flavors:
Cool Mint
O.M.G (Orange, Mango, Grapefruit)
Strawberry
Mango
Lychee ICE (Lychee and Menthol)
Lush ICE (Watermelon and Menthol)
Pink Lemonade
Pineapple Lemonade
Blueberry ICE
Watermelon
Cucumber
Blue Razz (Blue Raspberry)
Tobacco
Grape
Pomegranate
Sour Apple
Peach ICE
CAFE Latte
Banana ICE (Limited Edition)
Clear (Menthol ICE)
Menthol(Spearmint)
Tangerine ICE
Strawberry Banana
Melon ICE
Guava ICE
Package Includes:
1 x Puff Disposable Device
| | |
| --- | --- |
| Flavor | Blueberry Ice, Cucumber, Grape, Lush Ice, Melon Ice, OMG, Peach Ice, Pink Lemonade, Sour Apple, Strawberry, Tangerine Ice, Watermelon |
| NIC Strengths | 5% |
| Puff Count | 300 Puffs |