Goon RDA 25MM by 528 Custom Vapes
Brand: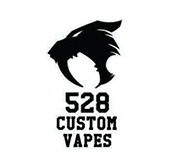 528 Custom Vapes
... people are viewing this right now
---
Artisan Vapor has been the leading company in producing the best vape tanks in the PAKISTAN. Goon RDA 25MM by 528 Custom Vapes is one of our top selling product that is available for an absolutely steal of a price around PKR 9900 only by holding the max wattage capacity for sub ohm vaping. We have the finest range of Rebuildable dripping atomizer at our website. Let's take a look at our quality assured products and get it delivered now.
The GOON Bridge-Clamp RDA by 528 Customs is an awe-inspiring two-post design reinvention, implementing "Bridge Clamp" platform to greatly expand build configurations possibilities while maintaining secure leads and carry current. It is geared towards high level performance and build sophistication, yet simplifying the usability factor, with a 24mm diameter coupled with dual triple airslots setting. A focal impression on the rebuildable, 528 Customs reinvents the two-post with a "Bridge Clamp" method on top of the posts adjustable by the four screws for a clamp effect on the wide surface area, with each post measuring at 8mm by 4mm.
This mechanism allows unprecedented surface area connection with the leads, enabling tremendous contact while providing secure functionality for a plethora of exotic build styles and large coil structures. The spacious chamber is equipped with an enlarged 6mm juice well for convenient wicking space and extended saturation time. To synergize throughout the entire system, adjustable airflow is created through the triple airslots on each side for direct air pathways to the core, maximizing vapor production. Creatively crafted with one of the most innovative featured deck in recent history, the GOON RDA by 528 Customs is specifically built to contend with the most capable RDAs on the market.
GOON RDA by 528 Customs:

24mm Diameter
6mm Juice Well
Superior Stainless Steel Construction
Innovative Two-Post Bridge Clamp Design
Gold-Plated Bridge Post
Gold-Plated Bridge Clamp
PEEK Insulators
Replaceable Positive and Negative Bridges
9mm Delrin Widebore Drip Tip
Adjustable Airflow Control
Triple Airslot on Each Side
Unique Serialized Number
Copper-Plated 510 Connection
Includes:

1 GOON RDA
Extra Screws and O-Rings
| | |
| --- | --- |
| Color | Black, Stainless Steel |
| Tank Capacity | 2 ML |
| Tank Type | Sub Ohms Tank |