Salt Bae 30ML
Brand: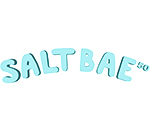 Saltbae
... people are viewing this right now
---
Salt Bae E-liquids are one of the most finely produced e-liquids blends in the market and most vapers can testify to that. Vapers choose Salt Bae e-liquids for the refreshing yet smooth vaping experience that they offer.
Salt Bae e-liquids offer high nicotine strengths of 25mg and 50mg to all vapers to enjoy. It also comes in a variety of exceptional flavors such as Blue Raspberry Lemonade, Honey Dew Ice, Iced Blue Raspberry Lemonade, Juice Watermelon, Juice Watermelon Ice, Red Mango, Red Mango Ice, and Sweet Caramel Tobacco.
25mg & 50mg Nicotine
| | |
| --- | --- |
| Flavor | Blue Raspberry Lemonade, Grape Kiwi, Green Apple, Green Apple Ice, Honey Dew Ice, Iced Blue Raspberry Lemonade, Juicy Watermelon, Juicy Watermelon Ice, Red Mango, Red Mango Ice, Strawberry Kiwi, Sweet Caramel Tobacco, Virginia Tobacco |
| NIC Strengths | 25 MG, 50 MG |
| VG-PG | 50-50 |
| Bottle Size | 30 ML |