Are you an avid vaper? If so, you must know that vaping is an activity that requires a little preparation, and without the right vape device, your experience can get dull. One such situation that most vapers dread is a dead vape battery. 
Without a doubt, there is nothing more infuriating than a drained-out vape. Therefore, to ensure you're getting the optimal usage of your electronic cigarettes, investing in the correct type of vape battery charger should be your main priority. 
Moreover, most new vapers' biggest mistake when charging their vape batteries is incorrectly charging them. Therefore, to maximize the life of your vape, you should religiously follow the instructions below to ensure that you are charging your vape correctly.
How to Charge Your Vape Battery Correctly? 
The crucial thing to know is those battery chargers not only carry the risk of overcharging, but battery hazards are also one of their significant concerns. The chargers must be capable enough to prevent overcharging or short circuits. For your safety and others, you must: 
Use the original USB charging cable supplied with the vape
Use the USB port on your PC or Laptop to charge your vape 
Do not keep your vape charging overnight
Avoid using primary sockets to charge your vape
Remove your vape from charge when the LED indicator turns green
While vape batteries are essential to enjoy a seamless vape experience, vape battery chargers, on the other hand, are just as important. Therefore, for them to qualify as a good charger among the multitude of options available today, you must find out if the one you are using is suitable for your vape or not.
If you own a vape with external batteries, then the last thing you should do is compromise on the quality of the vape battery charger. This is why Nitecore chargers have been the go-to choice for many veteran vapers out there. 
While some e-cigarettes and vape pens come with their own charger sets, you can still opt from some great brands of battery chargers in the market to bring your vape to life.
Nitecore is an American-based company that stocks a complete range of vape battery charging products. With cutting-edge technology and innovative features, Nitecore has established its distribution network across 100+ countries.
The Best Nitecore Vape Battery Chargers
With the ever-improving technology in the field, vape cells and batteries have become more accessible to all, making it challenging to select a vape battery device that charges your vape battery the best. To simplify things for you, we have compiled a list of the must-have Nitecore vape battery chargers that work the best with any type of electronic cigarette battery!
1) The Nitecore Digicharger D4
NiteCore D4 Digicharger is a popular smart charger for vape batteries that automatically detects the battery type and selects the best charging mode. It comes with an advanced automatic digital charger that makes it easy to use. All you have to do is put your batteries in and charge without worrying about overcharging. The D4 also comes with a capacity to charge four batteries in one go. Moreover, the design of the D4 is convenient and allows you to follow the charging progress in real-time, making it one of the best vape battery chargers to have.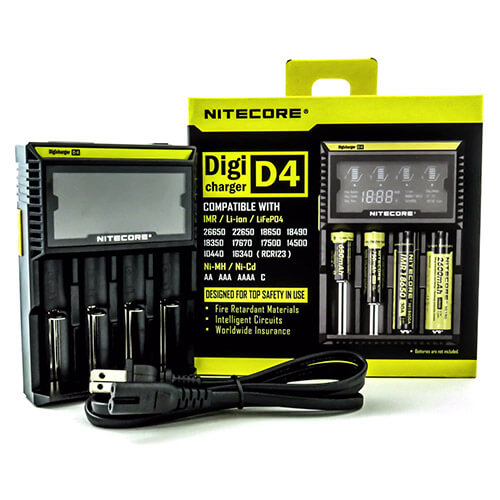 NiteCore D4 Digitcharger Specifications:
Compatible battery types:

Li-ion (26650, 22650, 18650, 17670, 18490, 17500, 18350, 16340(RCR123), 14500, 10440).
Ni-MH and Ni-Cd (AA, AAA, AAAA, C) rechargeable batteries

Input: AC 100-240V 50/60Hz 0.35A(MAX), DC 12V 1A
Output voltage: 4.2V ±1% / 3.7V ±1% / 1.48V ±1%
Output current: 375mA x 4 / 750mA x 2
Dimensions: 5.6″ (143mm) × 3.9″ (99mm) × 1.4″ (36mm)
Weight: 8.5oz (239g) (without batteries and power cord
2) Nitecore D2 Digicharger
Enter the world of smart technology with the Nitecore Digicharger D2. This battery charger makes charging your vape battery easier, owing to its crystalline LCD display and independent bays. Since it is a universal charger, they are compatible with multiple electronic devices and most types of cylindrical rechargeable batteries. This battery charger has gathered high reviews for being eye-catchy and compact. Designed for a modern appearance, the Nitecore D2 comes with a bright interface of LEDs with a pure copper plating that enables you to achieve a precise charging voltage.
Nitecore D2 Battery Charger Features: 
Compatible battery types:
Li-ion (26650, 22650, 18650, 17670, 18490, 17500, 18350, 16340(RCR123), 14500, 10440).
Ni-MH and Ni-Cd (AA, AAA, AAAA, C) rechargeable batteries
Input: AC 100-240V 50/60Hz 0.35A(MAX), DC 12V 1A
Output voltage: 4.2V ±1% / 3.7V ±1% / 1.48V ±1%
Output current: 500mA x 2
Dimensions: 5.6″ (143mm)="" ×="" 2.9″="" (74mm)="" 1.4″="" (36mm)<="" li="">
Weight: 6oz (168g) (without batteries and power cord)
Content in package: D2 Digicharger x1; AC power cord x1
3) Nitecore New i2 Battery Charger
The NiteCore's new i2 battery charger works exceptionally well for vapes that come with external batteries. The best feature about this charger is the 100% charging acceleration with a 1000 mA charging current. If you're a person who loves to charge your vape quickly, then this battery charger is what you're looking for. The NiteCore New i2 comes with expanded compatibility and active distribution technology. Moreover, this charger also comes with a temperature controlling technology that helps in charging your vape battery safer than ever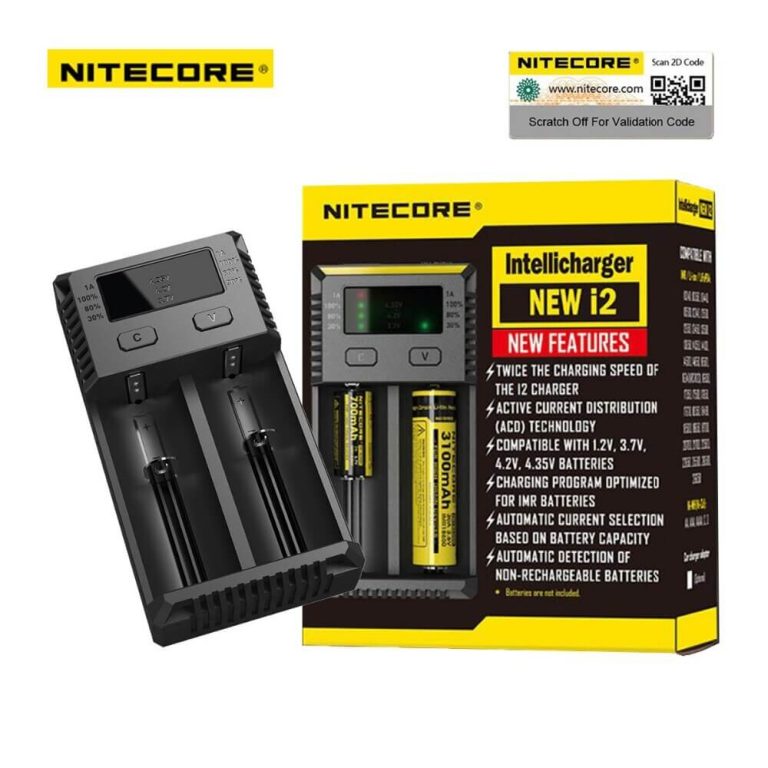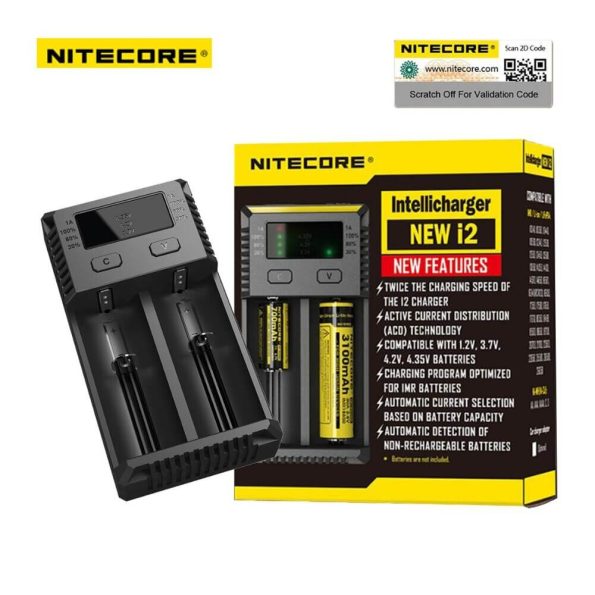 NiteCore New i2 Specifications: 
Automatic Current Selection
100% Charging Acceleration
IMR Battery Restoration
Input Voltage:

AC 100~240V 50/60Hz 0.25A(max) 8W DC 9~12V\

Outage Voltage:
DC Input Power: 9 to 12 VDC
Charger Dimensions: 5.2 x 2.75 x 1.4″ / 132.00 x 70.00 x 35.00 mm
4) The NiteCore Intellicharger i4 Battery Charger
The Nitecore Intellicharger i4 is an improved version of its predecessor and charges two times faster than the previous NiteCore i4. This charger has a 1.5A output that allows for a more integrated battery flow. The charger has four slots designed with a metal rail in this new version. I4 supports various battery types, including Li-ion and Ni-Mh batteries. The size range of cells is also accommodated from 30mm (1.2 inches) to 69mm (2.7 inches). 
The Intellicharger is named so for a reason. It uses the Active Current Distribution (ACT) technology, which automatically stops the supply to fully charged batteries.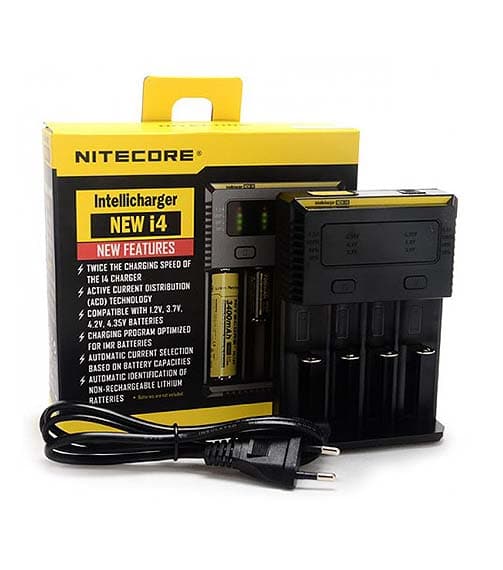 The NiteCore Intellicharger i4 Specifications: 
Input: AC 100-240V 50/60Hz 0.25A (Max) 10W, DC 9~12V 1A
Output Voltage: 4.35V ±1% / 4.2V ±1% / 3.7V ±1% / 1.48V ±1%
Output Current: 375mA x 4 / 500mA x 4 / 750mA x 2 / 1500mA x 1
Compatible with batteries:

Li-ion / IMR / LiFePO4: 26650, 26500, 25500, 22650, 22500, 21700, 20700, 18700, 18650, 18500, 18490, 18350, 17670, 17650, 17500, 17350, 16650, 16340 (RCR123A), 16500, 14650, 14500, 14430, 14350, 13650, 13500, 13450, 12650, 12500, 12340, 10500, 10440, 10350, 10340
Ni-MH / Ni-Cd: AA, AAA, AAAA, C, D

Dimensions:

Length – 5.51″ (140 mm)
Width – 3.73″ (94.7 mm)
Height – 1.45″ (36.8 mm)
Weight: 7.12 oz (202 g)
Don't like the hassle of charging your electronic cigarettes again and again? Check out our selection of some of the best disposable vapes!