SnowWolf 218W Temperature Control Box Mod – Stabilized Wood
Rs.14,800.00
Brand: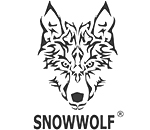 Snowwolf
SnowWolf 218W is a high performance TC Box Mod from Sigelei, loaded with three high drain 18650 batteries which enable the mod to fire up to maximum 218W. SnowWolf works with various wire configurations such as Ni200, Ti, SS as well as Temp-Coefficient-Resistance adjustments. It features a culmination of industrialized chassis with a stabilized wood face plate and stabilized wood panels (made in USA) which brings a customized presentation. Each piece is different with unique wood color. This ultra-sophisticated mod carries all the features necessary for a robust and flavorful experience.
... people are viewing this right now
---
Artisan Vapor has been the leading company in producing the best mods in the PAKISTAN. The SnowWolf 218W Temperature Control Box Mod is one of our top-selling Digital Vapor Mods. This exquisite Digital Vapor Mod is available all across PAKISTAN for a very affordable price of just PKR 14,800. The SnowWolf 218W Temperature Control Box Mod is a complete vaping machine in all aspects and caters to the needs of every vaper effectively. This box mod has such an exquisite design that maximizes the use of your desired e-liquid.
Features and Specifications Of SnowWolf 218W TC Mod
Batteries: Triple High-Drain 18650 Platform – Batteries Not Included
Wattage: 200W
Precise Temperature Control Module
Compatibility: Ni200, Titanium, and Stainless Steel
Temperature Coefficient of Resistance (TCR) Adjustments
Accurate Atomizer Sensing Technology
Unique Stabilized Wood Panel – Made in USA
Interchangeable Face Plate
Each Mod is different from others (No two mods are the same)
Display Screen: Intuitive OLED Screen
Three-Button Operation
Latched Battery Cover
MicroUSB Port – Firmware Upgrades
Connection: Spring-Loaded 510
Package Contents Of SnowWolf 218W TC Mod
SnowWolf 218W Mod by Sigelei (1 Pcs)
Micro USB Cable (1 Pcs)
User Manual (1 Pcs)